Westfield Sub Aqua and Marine Insurance Services Ltd are specialist providers of insurance policies that have been pioneered for the UK Sport Diver since 1972.
The original business was founded in 1948 and was known as G H Bull and Co, at this time it was a local Insurance Broking practice, providing insurance of all natures to the local community. At a later date the company changed its name to Tomson Bull & Co and was the pioneer behind the domestic underwritten warranties insurance schemes that are commonly seen today.
Tomson Bull & Co, employed in excess of 40 staff and grew hugely on the boom of the early eighties and the domestic underwritten warranties insurance they pioneered, as this was a very prominent time for the domestic white goods being purchased.
Mr W J Caldwell was employed as a marketing manager for Tomson Bull & Co and then due to the sudden growth of the company, the two Managing Directors decided to sell the portfolio for the domestic underwritten warranties insurance and retire. It was at this point Tomson Bull & Co changed its name to 'Westfield' under the new ownership of Mr W J Caldwell.
Westfield Insurance went back to its roots of being a local broker serving the local community of various insurance policies. However, Westfield continued with a specialist scheme of insurance for Sport Divers that Mr W J Caldwell had pioneered back in early days of scuba diving.
Mr Caldwell had continued to run the business closely with his son Nick, of which he was also a keen scuba diver since the tender age of 8. The business has since changed ownership to Nick Caldwell after serving within the business since 1988.
Having been at the beginning of the industry in providing specialist insurance schemes and being the first insurer in the Sport Diving market, we have grown to understand the whole industry very well in terms of products required.
We now find ourselves some 44 years on being considered very highly within our market place and one of the top insurers in this field.
Here at Westfield we offer a first class service with same day issue of policies and advice given on the telephone with the re-assurance that you can speak to someone that is familiar to diving, rather than just a call centre member of staff that unfortunately has often not got any understanding when it comes to scuba diving. We have a team of just 4 of us ensuring you of the very best attention and giving you the piece of mind that you can get to know us personally and are able to speak to the same person each time you call us. All our policies are underwritten by top leading insurers and we are also Authorised and Regulated by the Financial Conduct Authority.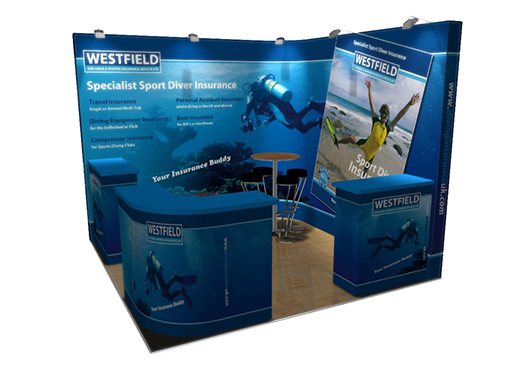 You can find full details of all our policies which have been designed specifically for the sport diver on this website, along with details of associated policies which have also been designed to meet the specific needs of the user. Alternatively if you would like to discuss your requirements or to find out more about our policies give us a call on 01483 237827.
Peace of mind that we've got you covered.
You never know what lays ahead...